Craig O'Connor |

January 23, 2020
---
Cherry Festival Prince and Princess Announced

Congratulations to 1st graders, Declan Radtke & Ava Watson, who have been selected to represent TC Christian as our Prince and Princess for the 2020 National Cherry Festival.
Save The Date
News in Brief
After-School Childcare Announcement
Jodi Cole (TCCS mom) has accepted the position of After-School Childcare provider. We're thrilled Jodi is moving into this important role taking care of some of our most treasured little ones.
Creative Arts Announcement
Please welcome Betsy Rudolph and Charmaine Lipscomb as our new co-theater arts directors! Both Betsy and Charmaine are very familiar faces and names to TC Christian. Betsy is an alumnus ('09) of TCCS and has coached and subbed at the school in recent years. Charmaine has directed previous musical performances at TCCS and had two sons – David ('14) and Tyler ('16) – graduate from TCCS. It's great to see you again, ladies. Information about a spring performance available for 3rd-12th grade students will be coming out soon, so stay tuned!
Spirit Week
Mark your calendars for SPIRIT WEEK February 3-7. All details will be announced next week.
Set It And Forget It
Information on TC Christian's Continuous Enrollment Program will be on its way to you in the next week or so. This program was implemented last school year and eliminates the need for the time-consuming re-enrollment process of past years. Watch your email for an update.
Menu Change
Our Catering Manager is out of town and we are unfortunately under-staffed in the kitchen on Thursdays and Fridays. As a result, lunch on Jan 23-24 and Jan 30-31 will be BC Pizza. If you can help on Thursdays and/or Fridays, please contact Deb Gleason asap.
Art Lovers
If you like art, kids, and are looking for service hours, we have a wonderful opportunity for you. TC Christian's Elementary is in need of a parent(s) to facilitate Elementary Art in late February. The lesson plans will be done, you just need to implement it. Please contact Mrs. Standfest if you are interested. The dates and times are as follow:Tuesday, February 25 (12:50pm – 2:45pm)Thursday, February 27 (12:50pm – 2:45pm)Friday, February 28 (1pm – 2:45pm)
'Doughnuts With Dad' Request
We are in need of volunteers to help with our 'Doughnuts with Dad' on February 7. If you are able to help out please sign up here.
Open Positions
TC Christian is seeking to fill the following positions:Assistant Varsity Baseball Coach (Spring 2020). Contact Athletic Director, Micah GallegosMiddle School Boys Cross Country Coach (Fall 2020). Contact Athletic Director, Micah Gallegos
New School, New Life. A Family Says Thank You
Spencer loved his first day of school so much!!!! It was truly unexpected. (His dad) almost cried in the car as Spencer described his day and happiness. He loves the teacher and classmates and already has a buddy that makes him very excited about. I believe his name is Ethan…Thank you so much for this wonderful opportunity and making him feel so comfortable. Your staff is amazing and his happiness proved it…Thank you for all your help with this transition."Thank you to Ms. Beaudrey, Ethan, and the 3rd graders for welcoming Spencer so warmly.
Go Sabres!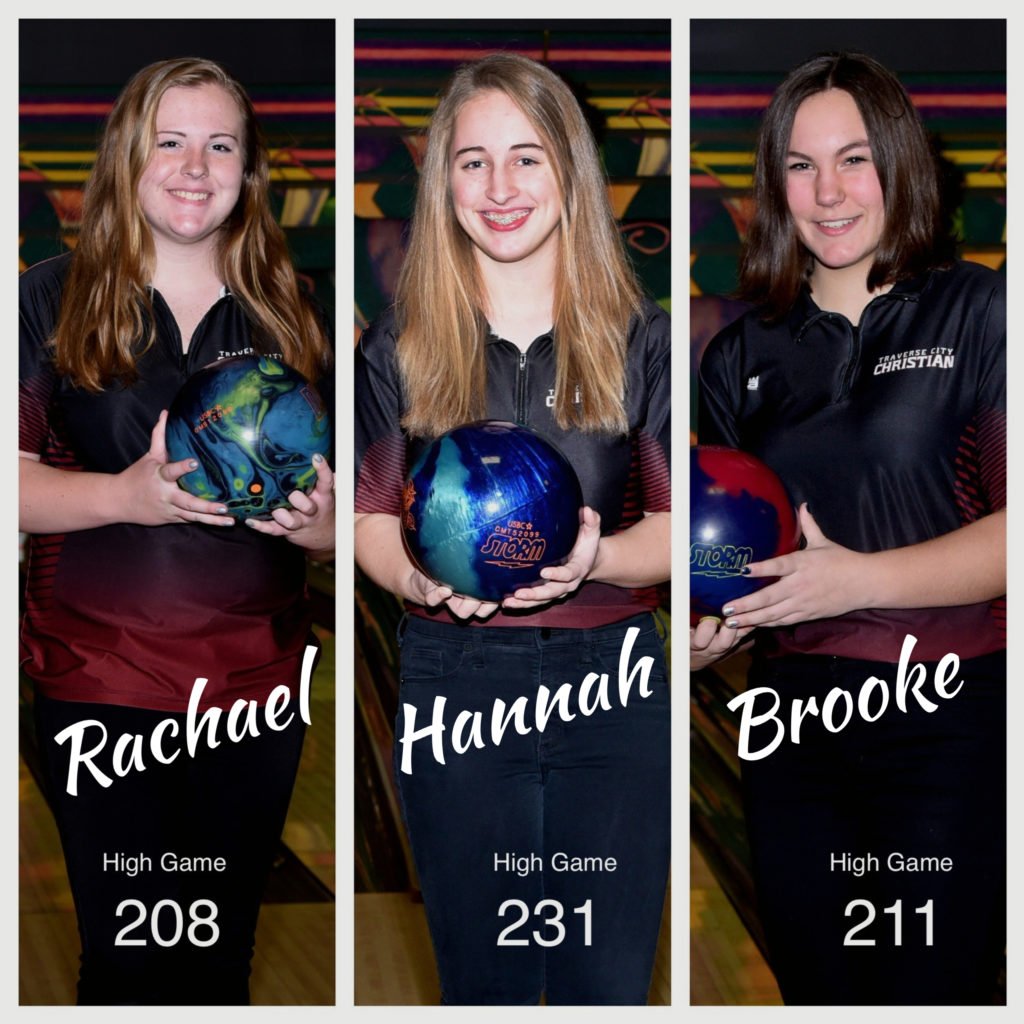 During last weeks bowling win against TC West, the Lady Sabres bowled the highest game yet this year for any Conference girls team: 841. These girls are on fire!.
In recent weeks, three Sabre bowlers have bowled their highest individual games in match play. Rachael Burch recenlty bowled a 208, and during last week's game, Hannah Elenbaas led the way with a 231 and Brooke Smith chipped in with a 211. Hannah's 231 was the highest game bowled by a TCCS girl since the MHSAA began sponsoring bowling. Way to go ladies! The Sabres are back at it this Saturday 11am against Glen Lake at Lucky Jacks.
Brekky Baco…ahem…Beckons
Each January, Tom Broderick and his class host their annual Big Bacon Breakfast Blowout, known simply as 'Brekky'. Brekky has no underlying purpose beyond great food and fellowship. Menu items include bacon, omelettes, bacon, link sausages, bacon, hash browns, and bacon. $3 gets you the Standard and the Heavy Hitter comes in at a cool $5. Typically an internal affair, for the first time parents and friends are invited to join in. Brekky will be served to visitors between 9-10am, and all day internally. No reservation necessary.
Sports Calendars
Do You Need A Break?
This Friday night, (Jan 24), the youth and their leaders at the Traverse City Presbyterian Church are offering baby sitting services for parents needing a night out. From 5:30 till 8 pm your kids will enjoy pizza, veggies, and fruit, and legos, along with a screening of the Lego Movie, all while you take a break. Money raised from the babysitting service will go to pay for the Youth Winter Retreat at Spring Hill Ranch. No reservations necessary.